Learning Outcomes
Students demonstrate advanced communicative competence in Spanish by reading, discussing, and writing about sophisticated literary, historical, and critical texts in the target language. Students in the modified major combine that study with advanced study in another department or discipline. They recognize major figures and debates in Hispanic World cultural production. They compare and analyze various modes of creative and critical discourse. They conduct original research or analysis on creative products and cultural/social movements in Spanish.
Exploring the work of Spring 2021 : La Mirada Boricua/The Boricua Gaze 
The students of Spanish 80.21: The Boricua Gaze: Decolonialism in Puerto Rican Visual Cultures collaborated with four contemporary Puerto Rican artists who visited their class throughout the term and shared with them their insights on Puerto Rican art and cultural identity.
copy_of_untitled.png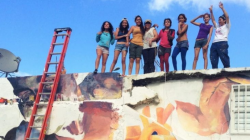 To view the virtual exhibition that was developed at the end of the term, please click here.